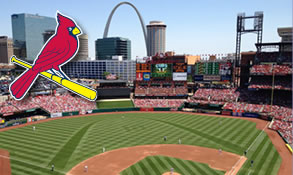 Cards Tix
Roscoville address:
St Louis Cardinals, Busch Stadium,
Sec 452, Row 1, Seats 12, 13, 14, 15
Residents
: Bob, Andy, & David Roscoe
Need seats? tix@ roscoville.com
Benefits: behind homeplate, first row of the upper deck, division champs. Under the overhang and extra leg room. No one in front and no one to the right. No handling, shipping, nor convenience fees!


We've got 4 seats.


Email Notice and Specials:
Join our Cardinal ticket email:
send a blank email to -
cards-subscribe@ roscoville.com


Facebook
See our Facebook page for photos and fun.
The photo above was shot by Steve Wark from our seats.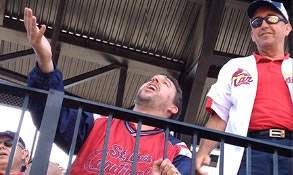 Bud Song
The Budweiser Song
is sung immediately following the 7th Inning, please join in.
It's the song that the Clysdales march to and to which we love to clap along. It's titled Here Comes the King and it's got words!
Here Comes the King
Lyrics, music, ringtones, banners, everything!
Facebook
Join the movement!
The Story:
There's a spot on the Anheuser-Busch Brewery tour where you ride a trolley. It was playing the song and I thought to myself, "man, I love the Cardinals. Wait, I'm not at the Cardinals!" This song and the clysdales have become so intertwined with our love of the Cardinals, the beer, and St Louis.
We've made banners and now we lead Section 452 in our tribute. Let's celebrate!
Mobile Users
easy to see lyrics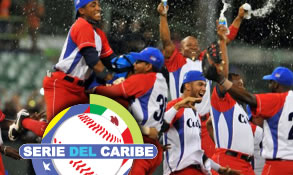 Playoff Brackets

Winter league playoffs and series for Domincan Republic, Puerto Rico, Mexico, Venezuela, and Cuba. Playoffs begin Dec 27.
2016 Olympics Soccer
USA looses to Honduras, but beats Canada for third place. They must beat the #2 team from S America to qualify for the Olympics - March 2016.
2018 FIFA World Cup
USA has slim lead in its group. The next games are in March 2016. Brackets are available for the Americas, Oceania, S America, and Africa.
Other Soccer
UEFA Champions League, World Cup Mens,
World Cup Womens
MLB World Series & Playoffs
Baseball playoffs now available, updated daily.
World Baseball Classic
2013 and past